Charter Destinations
GÖCEK, BODRUM
GULET
THE GULET CARPE DIEM IV WAS BUILT IN 2010. THIS BOAT THAT IS 47 M LONG AND 8 M LARGE IS PROVIDING BLUE CRUISE SERVICES TO OUR DEAR GUESTS WITH ITS 6 CREW MEMBERS. OUR YACHT THAT HOLDS 2 MASTER CABINS, 2 DOUBLE CABINS, 2 TWIN CABINS , MORE ELEGANTAND COMFY THAN EACH OTHER WITH THEIR OWN WC AND AIR CONDITIONING, WITH A TOTAL OF 6 CABINS. IT POSSESS A 2 X 600 HP IVECO HORSEPOWER AND A 22KWA ONAN GENERATOR. A DEDICATED LIVING SPACE FORT THE CREW, A FULLY FURNISHED KITCHEN, INDOOR AND OUTDOOR SPACES FOR EATING AND RELAXING, AND AN AMERICAN BAR ARE AVAILABLE. THERE ARE ENOUGH SUN BATH CUSHIONS, CHAIRS AND SERVICES FOR EVERY SINGLE GUEST. THIS YACHT THAT IS BUILT TO MAKE OUR GUESTS LIVE THE COMFORT, THE LUXURY AND THE SERENITY AT THE SAME TIME, CAN REACH A SPEED UP TO 14 NAUTICAL MILE. CARPE DIEM IV GULET, FULLY FURNISHED WITH NAVIGATIONAL DEVICES WIRELESS, GSM PHONE YOU WILL FEEL IN SECURITY DURING ALL OF OUR PREFERRED DESTINATIONS LIKE BODRUM, MARMARIS, FETHIYE, GÖCEK BESIDE THAT, A LCD TV, A DVD PLAYER AND A STEREO MUSIC PLAYER ARE AVAILABLE FOR OUR DEAR GUESTS IN THE LIVING ROOM. FOR THOSE WHO WANT TO STAY CONNECTED, A WI-FI SERVICE CAN BE PROVIDED IN OUR BOAT, LIMITED INSIDE THE TURKISH WATERS.
GÖCEK
It was named Kalimche in ancient times, and is located between Fethiye – Telmessos in ancient times – and Dalyan – Caunos in ancient times. According to the legends, it is in the Göcek area that Icarus landed in the sea after his famous flight trying to escape from the tower where he was imprisoned. Göcek was used as a harbour for ships loading chrome ore collected from the mines under nearby mountains during the Ottoman period.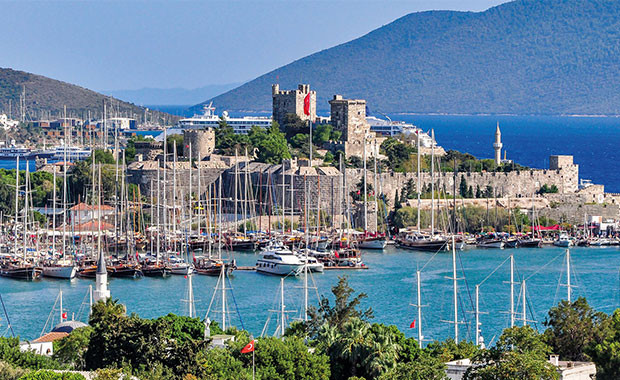 BODRUM
Halicarnassus was an ancient Greek city at the site of modern Bodrum in Turkey. Halicarnassus was founded by Dorian Greeks, and the figures on its coins, such as the head of Medusa, Athena or Poseidon, or the trident, support the statement that the mother cities were Troezen and Argos.[5] The inhabitants appear to have accepted Anthes, a son of Poseidon, as their legendary founder, as mentioned by Strabo, and were proud of the title of Antheadae. The Carian name for Halicarnassus has been tentatively identified with Alosδkarnosδ in inscriptions.
CO-FOUNDER & GROUP SALES DIRECTOR
ONUR ERARDAG
Please complete the form below and we will respond to your inquiry shortly