Charter Destinations
BODRUM, GÖCEK, TURKEY & GREECE
BENETTI CLASSIC 115
THE 114.83FT /35M CLASSIC 115' MOTOR YACHT 'STELLA FIERA' WAS BUILT IN 1998 BY BENETTI AND LAST REFITTED IN 2013. THE YACHT'S INTERIOR HAS BEEN DESIGNED BY ZURETTI AND HER EXTERIOR STYLING IS BY STEFANO RIGHINI. STELLA FIERA'S INTERIOR LAYOUT SLEEPS UP TO 10 GUESTS IN 5 ROOMS, 1 MASTER CABIN, 2 VIP STATEROOM AND 2 TWIN CABINS. SHE IS ALSO CAPABLE OF CARRYING UP TO 6 CREW ONBOARD TO ENSURE A RELAXED LUXURY YACHT EXPERIENCE. TIMELESS STYLING, BEAUTIFUL FURNISHINGS AND SUMPTUOUS SEATING FEATURE THROUGHOUT TO CREATE AN ELEGANT AND COMFORTABLE ATMOSPHERE. BUILT WITH GRP HULL AND GRP SUPERSTRUCTURE. , SHE FEATURES AN ULTRA-MODERN STABILIZATION SYSTEM TO REDUCE ROLL MOTION EFFECT AND ENSURE THE ULTIMATE COMFORT THROUGHOUT YOUR CHARTER VACATION. WITH A CRUISING SPEED OF 12 KNOTS, A MAXIMUM SPEED OF 17 KNOTS AND A RANGE OF 3,200NM FROM HER 35,600LITRE FUEL TANKS, SHE IS THE PERFECT COMBINATION OF PERFORMANCE AND LUXURY..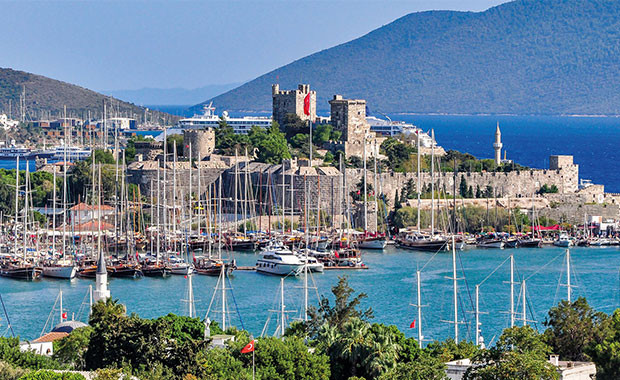 BODRUM
Halicarnassus was an ancient Greek city at the site of modern Bodrum in Turkey. Halicarnassus was founded by Dorian Greeks, and the figures on its coins, such as the head of Medusa, Athena or Poseidon, or the trident, support the statement that the mother cities were Troezen and Argos.[5] The inhabitants appear to have accepted Anthes, a son of Poseidon, as their legendary founder, as mentioned by Strabo, and were proud of the title of Antheadae. The Carian name for Halicarnassus has been tentatively identified with Alosδkarnosδ in inscriptions.
GÖCEK
It was named Kalimche in ancient times, and is located between Fethiye – Telmessos in ancient times – and Dalyan – Caunos in ancient times. According to the legends, it is in the Göcek area that Icarus landed in the sea after his famous flight trying to escape from the tower where he was imprisoned. Göcek was used as a harbour for ships loading chrome ore collected from the mines under nearby mountains during the Ottoman period.
TURKEY & GREECE
Set sail along Turkey's magnificent turquoise coast: it's a glistening stretch of clear blue sea where gods once played in sublime pebble coves and now spectacular ruins abound. It's pure escapism, the ultimate relaxing holiday. Swim every day in the crystal clear azure waters of the Mediterranean. Turkey and Cyprus Yacht Charter: Visit ancient ruins of sunken cities. Party on island hideaways such as Smugglers Cove and lap up the genuine hospitality of your crew as they bestow the freshest, tastiest food upon you. Thanks to the climate in Turkey and the favorable weather of Cyprus, the best period to sail this Mediterranean areas is from April to October. Why Charter a Yacht in Turkey and Cyprus Then there are the sunsets – deep purple, orange and red. From Fethiye, boats call in at Ölüdeniz and Butterfly Valley and stop at Kaş, Kalkan and Kekova, with the final night at Gökkaya Bay. A less common route is between Marmaris and Fethiye, also taking four days and three nights. Aficionados say this is a much prettier route, but for some reason it's not as popular. Turkey and Cyprus Yacht Charter: Over the course of Turkey's long and beautiful summer, the good winds and moderate seas make an exploration of the deep water bays and mountainous coastline of southern Turkey, with its historic sites, sleepy fishing villages and bustling towns, a sailing vacation to remember. As well as Cyprus, so close as wonderful, thanks to its spectacular natural attractions and unique atmosphere.
CO-FOUNDER & GROUP SALES DIRECTOR
ONUR ERARDAG
Please complete the form below and we will respond to your inquiry shortly